The Ministry of Pastor Don Bartow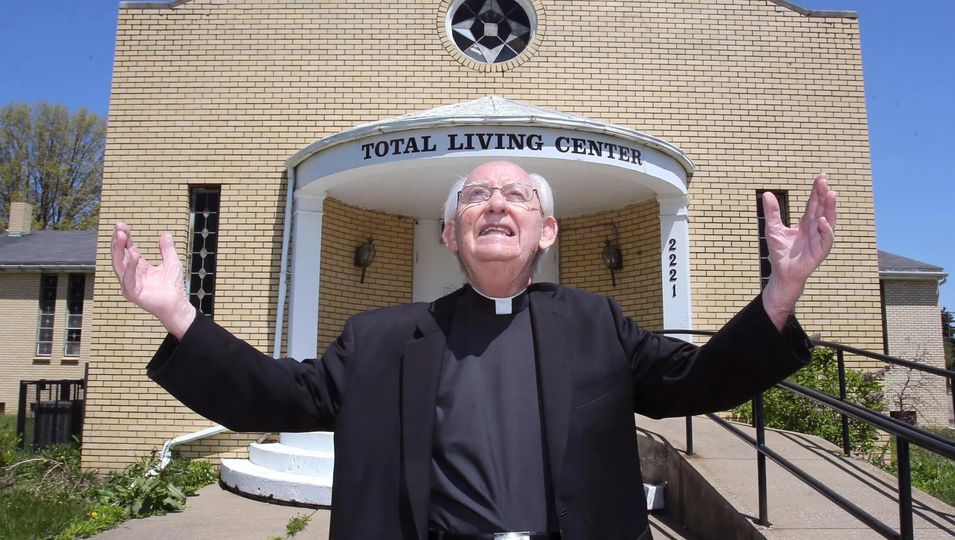 Obituary for Donald Wayne Bartow
May 3, 1928  –  February 8, 2022
Pastor Don Bartow, Pastor Emeritus of Westminster Presbyterian Church and Founder/Director of the Total Living Center, both in Canton, received his eternal reward on February 8th, 2022.
He was born in a humble home to William and Florence Bartow near Shawnee, Ohio. As the son of a coal miner with 10 siblings, he led a humble life as a child. He often shared that as a child he did not know that he was poor, but he did know he was loved. He found the Lord at 10-years old when a church opened near his home. It was then he felt a calling from the Lord to be a pastor.
He is survived by his wife of 72-years, Mary, his daughter, Beckie Cisler, his son, Dennis, 5 grandchildren and 10 great-grandchildren.
Pastor Bartow's favorite Bible verse was 1 John 2:17,  "And the world passeth away, and the lust thereof: but he that doeth the will of God abideth for ever."  This verse was his compass and comfort throughout his entire life.
He was the first member of his family to attend college. When he got to college, he found out he had bad eye-sight and obtained his first pair of eyeglasses.
Although small in stature (he often said that he had to be kind to everyone because of his size), he was a giant for Christ. Countless individuals have and will receive their eternal reward in heaven due to the presence of Pastor Bartow in their lives.
Pastor Bartow would light up every room he entered. Countless individuals and families, whether at his office, or in their homes, or in the hospital or at a funeral home, or in day-to-day encounters with people, were deeply consoled by his presence and words of comfort, and most of all, his prayers.
Pastor Bartow attended Findlay University and Bowling Green State University for his bachelor's degree. He attended Winebrenner Seminary to receive his ordination as a protestant pastor, the field he labored for the rest of his life. It was during his college years that he met, courted, and eventually wed his most beloved wife, Mary, who was the daughter of a Presbyterian pastor. Pastor and Mary were blessed to share their lives together for nearly 73 years.
During his seminary years, Pastor Bartow served three small country churches near Findlay, Ohio. In 1955, he assumed a pastorate at Point Place, Toledo, Ohio and served there for 11 years. In 1959 he held his first healing service in this church. In 1966, he became pastor of Westminster Presbyterian Church in Canton, Ohio where he served a vibrant congregation for 25 years. Simultaneously, he started the Spiritual Healing Ministry. Through this ministry, he held many seminars and conferences, spoke at many events throughout the nation, developed many church administration tools, authored numerous books on healing and prayer, and appeared on several national Christian TV and radio shows to include the 700 Club, the PTL Club, Trinity Broadcasting Network, and 100 Huntley Street. For many years, he mailed a monthly newsletter to over 100,000 churches. In 1984, Pastor Bartow traveled to Washington DC to open the US Congress with prayer. In July 1991, he was designated Pastor Emeritus of Canton Westminster Presbyterian Church.
In April 1991, the 63-year-old Pastor Bartow, in an immense step of faith, purchased a vacant church in the SW end of Canton in order to have a facility to continue his healing ministry, He had a vision and he was committed to fulfilling it to the best of his ability. He named this non-profit ministry, The Total Living Center. For the past 30 plus years, the TLC has provided numerous ministries to the poor and needy in the greater Canton community. These ministries include a soup kitchen, free groceries, free hair cuts, free laundry mat, free chiropractor, plus worship and healing services and Christian related classes and seminars. The TLC has existed mainly on free-will donations from those interested in helping others. The TLC is known as the bridge of compassion where those who have can cross over to help those who have-not – physically, financially and spiritually.
Pastor Bartow authored many books, wrote many articles and newsletters, recorded many lectures, and even set-up a You Tube Channel with many messages of hope, healing and love. His books include Creative Churchmanship, Bartow's Healing Handbook, The Gospel According to Mary, Mother of Jesus, The Ministry of the Master, and his autobiography, God Encounters.
Pastor Bartow was a world traveler. He led many tours to the Holy Land and Europe to include seeing the Oberammergau Passion Play in 1980. His son, Dennis, has lived in Germany since 2011. Pastor and Mary visited him six times where they enjoyed visiting cities such as Munich, Vienna, Budapest, Salzburg, Nurnberg, Regensburg, Mainz, Bamberg, Bayreuth, and many others. Dennis actually got him to attend two operas! They were also able to attend a few concerts that Dennis performed in as part of community bands. Pastor Bartow declared that the Gutenberg Museum in Mainz was the best museum he ever seen. Not surprisingly, Pastor made many friends while in Germany and they are mourning his departure as much as all in the US.
Pastor Bartow also travelled extensively to participate in family activities such as reunions and special events for his children, grandchildren and great-grandchildren such as Ironman Marathons in Idaho and San Francisco, and for high school and college graduations. He performed weddings for all his children and grandchildren.
There will be a Celebration of Life service for Pastor Bartow on Saturday the 19th of February at 2:00 PM at the Total Living Center. It will be hosted by the family and is open to the public. Special music will be presented by family members and accompanied by Pastor Bartow's very close friend, Steve Dallas, on piano. A reception will follow the service.
In respect to Pastor Bartow's wishes, Pastor Ben Kariuki has been appointed as the Director for the Total Living Center and will continue Pastor Bartow's legacy and ministry at the TLC. Pastor Bartow is pleased.
In lieu of flowers, the family requests donations to the Pastor Don Bartow Memorial Fund which has been established to ensure that the Total Living Center can continue to bless the community. Contributions may be mailed to the Total Living Center at 2221 Ninth Street, SW, Canton, Ohio 44706 or online via our website.